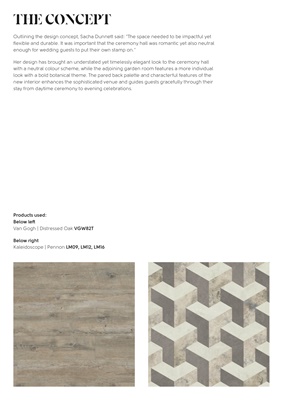 The look
In the spacious ceremony hall which is flooded with natural light, warm neutral shades on
walls and flooring combine to give an open and fresh feel that complements the rich
period wood panelling. Sumptuous pelmets and drapes add an opulent feel while fresh white
furniture and table cloths provide a romantic look that can be easily adapted to each wedding
party's colour theme.
In the adjoining garden room, a spectacular botanical mural has been paired with a dramatic
flooring design to create a guest space that looks equally amazing at any time of the day or
night. The geometric tiles of the Kaleidoscope Pennon floor have been laid in subtle tones
of grey to cleverly coordinate with the monochrome wall mural, adding interest without
competing for attention.
Sacha explained: "The floor was central to the design in all areas. Using Karndean flooring has
enabled us to provide a seamless transition from a neutral wood design floor in the main hall to
a dramatic geometric pattern in the garden room without a change of levels. We knew that the
durability and easy maintenance of the product would be ideal for this hospitality setting. The
owners are delighted with the results and have received very positive feedback from guests."
Pennon LM09, LM12, LM16